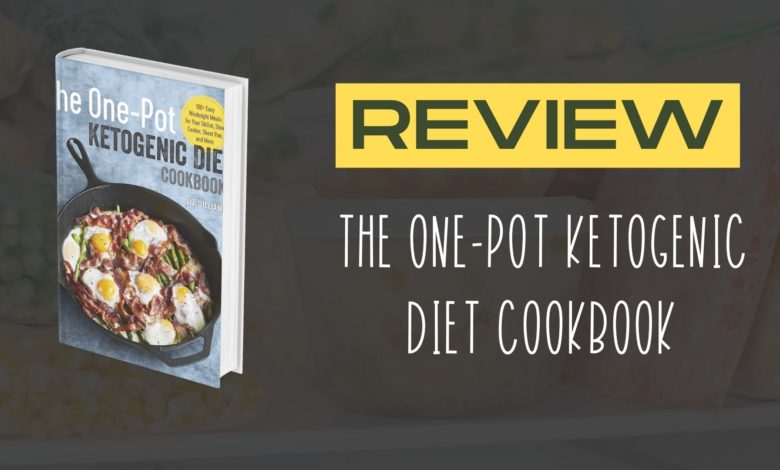 Millions of people have turned to the Keto diet to help them lose weight and cut cards, but the Keto diet can seem confusing – bacon is okay, but no potatoes? What is a "macro" anyway?
If you want to try out Keto recipes but aren't sure where to start, the One-Pot Ketogenic Diet Cookbook is a beginner-friendly guide to eating Keto at home. This cookbook includes lots of simple recipes and basic ingredient combinations to help you easily put meals together while sticking with the Keto diet.
Bottom line: This is a great cookbook for people eating Keto. It doesn't solve the food prep problem, so you'll probably still be cooking every night with this one.
If you want to try preparing lots of freezer meals ahead of time to defrost and toss in the oven whenever you're hungry, check out the Keto section of FreezerFit: there are tons of customizable recipes that are compatible with eating Keto. 
Who Is This Freezer Meal Cookbook For?
This is a cookbook for the beginner Keto home chef. What is Keto? The Keto diet focuses on cutting out almost all carbs and increasing the intake of fat and protein. It's important to maintain this diet consistently to get the weight loss results most people are looking for in the diet, so people need a way to cook keto meals consistently.
This cookbook delivers over 100 keto recipes that help people figure out what to cook to keep their bodies in ketosis. It's designed for beginners, so if you've never sliced an avocado before, this might be a good fit for you.
Most of the ingredients in these Keto recipes are easy to find at local grocery stores. Components like eggs, heavy cream, and bacon help add lots of flavor to the veggie-based dishes, so you won't miss carbs as much.
Each recipe also includes the number of macronutrients (fat, protein, and carbs) in each recipe, so you can make sure you're hitting your daily goals for each of those nutrients. There are also notations indicating if the recipe is gluten free or vegetarian – though the Keto diet is very specific, so vegan or dairy-free cooks might not be able to make it work for them.
Who Is This Cookbook NOT For?
If you've been cooking keto for a while, this may seem fairly basic to you. There is an entire "recipe" devoted to teaching you how to cook bacon – a necessary skill, but one a more experienced cook won't need a cookbook to tell them.
This also isn't really a meal prep book. The beginning does include some sample menus and tips for grocery shopping, but overall this is a traditional cookbook that will require hands-on time for each recipe.
There are very few pictures in this one, so if you are a very visual cook or need help learning what an over-easy egg is "supposed" to look like, you might need other resources in addition to this book.
The One-Pot Ketogenic Diet Cookbook in a Nutshell
The keto diet can be a bit complicated to learn, and that's what this bestseller helps with. The One-Pot Ketogenic Diet Cookbook: 100+ Easy Weeknight Meals for Your Skillet, Slow Cooker, Sheet Pan, and More is a beginner's cookbook for those just starting their Keto journey.
The book starts with the basics of the keto diet AND the basics of cooking at home and meal planning and prepping. This includes things like weekly shopping lists, suggested meal plans, and "quick combos" of keto-friendly ingredients that can be thrown together to make a quick meal.
The recipes that follow are fairly simple, like steak and broccoli on a sheet pan or drumsticks with cauliflower rice. There's a good list of keto dessert recipes as well.
Many of the recipes in the book are one-pan recipes: meaning the whole thing cooks in a single pot, skillet, or sheet pan, like the Roasted Asparagus, Egg, and Bacon Bake. If you buy pre-cut veggies, you'll cut down on prep and cook time even further.
Our Verdict on The One-Pot Ketogenic Diet Cookbook
Overall, home cooks who are relatively new to the Keto diet will find lots of options here that rely on some simple techniques that aren't hard to learn. Various combinations of veggies and meat rule the day – bacon and avocado are also popular ingredients.
If you find that you're running low on the time you need to prepare healthy Keto recipes at home, you might want to try out Keto freezer meal prep. In just an hour, you can prep a dozen dinners that are ready to go on busy weeknights with minimal dishes. Check out FreezerFit here.